Ghost Q&A chapbook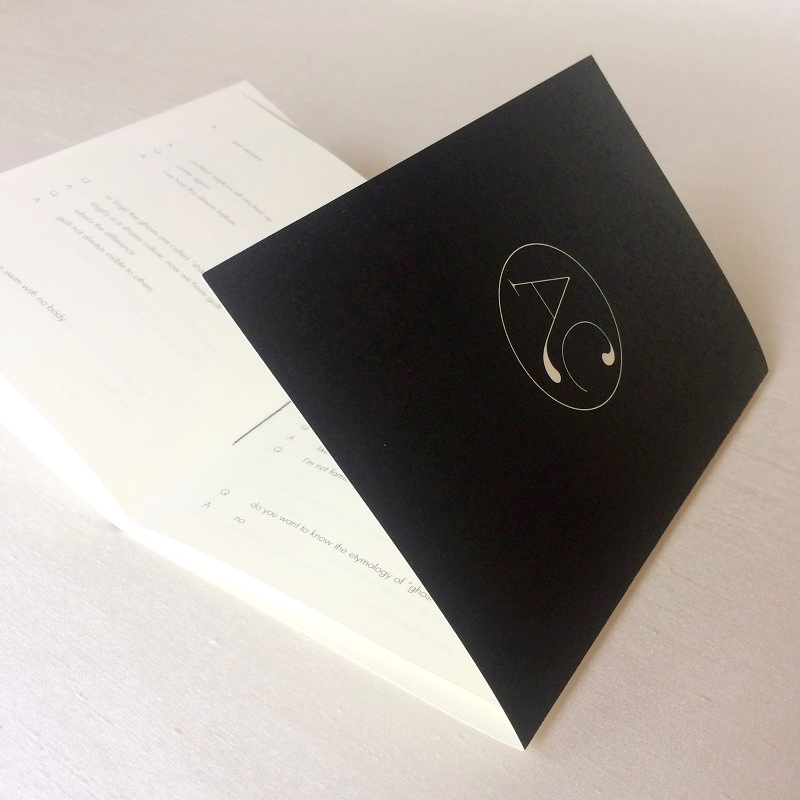 This limited edition chapbook contains a new poem by Anne Carson called 'Ghost Q&A'. I was quite excited by the idea of working with a poet who seemed to be as interested in the presentation of the poem as the poem itself. The project started when the publisher Well Review sent me Anne's Q&A poem. I read it and let ideas simmer for a while, thinking about how I could respond to it in book format. I made several mock-up pamphlets, which reflected some of the motifs of the poem in the physical structure of the book. The publisher and I then met up and they chose their favourite mock-up, adding elements from the others that they liked too before sending them to Anne.
There were a lot of different words to do with subtle movement in her poem: sliding, no right angles… just vectors. So that was something I tried to incorporate into the physical structure with details such as the wraparound cover and the angled pages inside. The first page of the chapbook is a transparent sheet of ghostly white paper – a nice lead-in to the poem.
I designed and hand-bound 400 editions of this chapbook making this the biggest edition that I have created so far. The illustration on the cover was created by artist Moonassi.